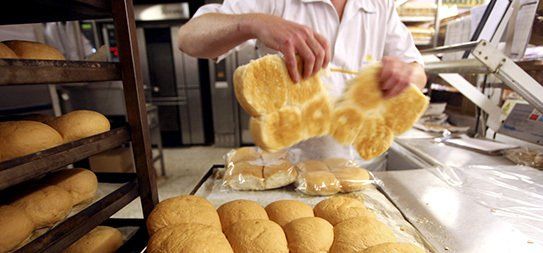 The beginning of the new year is a great time to kick bad habits to the curb and adopt a healthier lifestyle. For some, this means abstaining from sugar or soft drinks, for others it can mean trying a new eating regime like the Paleo diet or going gluten-free. But for many people, going gluten-free isn't a choice – it's a necessity.
One percent of Americans have Celiac disease or another intestinal disease that renders eating gluten impossible. That's why Russo's is committed to providing healthy, delicious and creative gluten-free options for its guests, both in the store and on shelves in more than 3,000 nationwide grocery stores.
And it's not just health that's affected – the gluten-free sector is a significant business opportunity. In fact, according to Bloomberg, gluten-free sales reached $4.2 billion in 2012 and are estimated to reach $4.8 billion by the end of 2013.
Not only are more stores selling gluten-free retail items, but restaurants all over the country are beginning to introduce more gluten-free options to their menus.
Chef Anthony Russo of Russo's Restaurants is no stranger to this gluten-free movement – in fact, gluten-free pizza has been on his menu for several years. After sensing the popularity of gluten-free items, Chef Anthony spent two years developing a gluten-free pizza crust that is competitive in both taste and texture. In fact, in the last year alone, Russo's Restaurants have sold more than $1 million worth of gluten-free food – and that includes the frozen gluten-free pizza line.
With more than 30 years of experience in restaurant management and ownership, Russo's Restaurants has perfected the classic Italian dining experience, and the brand is making it easier than ever to get started on this exciting journey yourself. For franchise information please contact Russo's at nypizzeria.com/franchise.
The post RUSSO'S MOMENTUM BEHIND GLUTEN-FREE MOVEMENT IS STRONG appeared first on Russo's New York Pizzeria and Italian Kitchen.