Russo's New York Pizzeria is continuing to open new locations in the Fort Bend County area. Take a look at this article published by The Fort Bend Star entitled: Nibbles & Sips: Russo's expanding pizza empire across Fort Bend County
FOR IMMEDIATE RELEASE
Date: October 1, 2021
Contact: Laura Michaels, editor in chief, Franchise Times; lmichaels@franchisetimes.com
Franchise Times Top 400 ranks the industry's biggest brands Annual ranking shows COVID's impact on franchising
Top 400 sales fell 13.1 percent in 2020, to $635.9 billion, as some brands thrived and others took a hit in a year of shutdowns, pandemic-related restrictions and radical change. Sales at the 10 largest franchises dropped 2.1 percent as those brands collectively lost nearly $7 billion. Among restaurants, the performance of Jersey Mike's stands out, with CEO Peter Cancro among four exclusive featured interviews. The online database launches today, listing all 400 brands by worldwide sales.
MINNEAPOLIS—Combined annual sales at the 400 largest U.S.-based franchisors declined by more than $96 billion or 13.1 percent last year, to $635.9 billion, according to the newly released Franchise Times Top 400, an exclusive ranking of the 400 largest franchises.
The 10 largest franchised brands lost $6.9 billion in sales in 2020, a 2.1 percent decrease compared to that cohort's 6.7 percent sales growth the prior year. The top 10 now account for more than $323 billion in annual sales.
Previously the Top 200+, Franchise Times renamed its annual ranking of the 400 largest U.S.- based franchise systems by global systemwide sales to better encompass the biggest brands in franchising, along with promising young concepts in growth mode. The rigorous approach to research remains the same, said Franchise Times Editor in Chief Laura Michaels. The project is the result of a five-month research and reporting effort that leads to the most credible and objective franchise ranking available.
The collection of systemwide sales data also provides useful insight into the franchise industry's performance during the COVID-19 pandemic.
"While overall growth took a 13.1 percent hit in 2020, sales increases at major brands such as No. 2 7-Eleven and Ace Hardware, which grew to $91.8 billion and $20.6 billion, respectively, illustrate notable shifts in consumer spending," said Michaels. "The retail category as a whole grew 7.4 percent, to more than $140 billion. In restaurants, however, overall sales declined 5.1 percent, with only pizza delivery, better burgers and chicken as the growth segments."
"McDonald's managed to retain the No. 1 overall position despite systemwide sales falling 6.8 percent to $93.3 billion," continued Michaels. "KFC held onto the No. 3 spot even as its sales fell 5.8 percent, a contrast to Chick-fil-A's gain of 11.2 percent to move up to No. 8."
Burger King fell to No. 5, supplanted by No. 4 Ace's performance and its own sales decline of $2.8 billion. No. 9 Subway and No. 10 Pizza Hut saw steep declines of 14.9 percent and 7.3 percent, respectively.
Among the four exclusive CEO interviews included in this year's ranking, Jersey Mike's CEO Peter Cancro shares how he powered through the pandemic and even completed a top-to-bottom
brand update that helped fuel a 25-spot jump on the Top 400. Executives from Jack in the Box, United Real Estate and College HUNKS Hauling Junk also share how they've accelerated sales.
Franchise Times Fastest-Growing Industry Sectors
1. Real Estate +18.5%
2. Health & Medical +9.2% 3. Retail +7.4%
4. Home Services +5.6%
5. Printing & Shipping +5.1%
Franchise Times Top 10 Franchises by Worldwide Sales
McDonald's; $93.3 billion sales, -6.8% from prior year; 39,198 units, +1.3%
7-Eleven; $91.8 billion sales, +3.1% from prior year; 72,374 units, +3.1%
KFC; $26.3 billion sales, -5.8% from prior year; 25,000 units, +3.7%
Ace Hardware; $20.6 billion sales, +21.1% from prior year; 5,669 units, +2.1%
Burger King; $20 billion sales, -12.6% from prior year; 18,625 units, -1.1%
Domino's; $16.1 billion sales, +12.6% from prior year; 17,644 units, +3.7%
Circle K; $15.2 billion sales, +22% from prior year; 11,312 units, +20.4%
Chick-fil-A; $14.1 billion* sales, +11.2% from prior year; 2,610 units, +4.4%
Subway; $13.7 billion* sales, -14.9% from prior year; 37,005 units, -9.5%
Pizza Hut; $11.9 billion in sales, -7.3% from prior year; 17,639 units, -5.7%
*Franchise Times estimate
Franchise Times Top 10 Fastest Growers by Sales Percentage
United Real Estate: 126.8%* increase from prior year
G.J. Gardner: 105.4%
uBreakiFix: 58.5%
American Family Care: 56%
Image360: 46.6%
Edible Arrangements: 32.7%
HomeV estors: 30.6%
City Wide: 30.4%
Wingstop: 28.8%
Marco's Pizza: 28.4%
*Franchise Times estimate
Franchise Times Top 10 Fastest Growers by Unit Percentage
United Real Estate: 42.1% increase from prior year
Realty One Group: 38.6%
Gong Cha: 24.9%
Home2 Suites: 20.6%
Circle K: 20.4%
American Family Care: 20.3%
Visiting Angels: 19.5%
Smoothie King: 18.1%
9. Brightway Insurance: 15.9% 10. Jan-Pro: 15.6%
ABOUT THE FRANCHISE TIMES TOP 400
The Franchise Times Top 400 is the only ranking by systemwide sales and units of the largest 400 U.S.-based franchise brands. Published in the October issue and available in a searchable database online, the Franchise Times Top 400 also analyzes industry sectors based on percentage change in sales growth, reports the 10 fastest-growing franchises by four different measures, and includes exclusive news stories about the biggest names in franchising. The rankings and full report, and the searchable online database, are available at www.franchisetimes.com/top-400- 2021.
Houston Multi-Unit Operator Signs Multi-Unit Agreement
Russo's New York Pizzeria & Italian Kitchen signs multi-unit deal with new franchise owners, Randall & Ayesha McCoy. The McCoy family has signed for a five store development deal for the Houston market. Randall McCoy was extremely excited to join the Russo's family, with history dating back to helping Anthony Russo at his first pizzeria in 1985. Today, even during the midst of a pandemic, he and his family have seen their dreams come true.
Randall McCoy states, "I remember grating mozzarella cheese, making fresh pizza dough, and leaving the restaurant covered in flour. So when I sat down to visit a Russo's after many years, the aromas of the pizza and pasta immediately took me back to those days. I could tell right away, Russo's was (and still is) all about quality ingredients."
With the announcement that the McCoy family has signed for this five store development deal, Anthony Russo states, "We are incredibly excited to have the McCoy family join us. It's never been a better time for Russo's New York Pizzeria & Italian Kitchen, as we have seen our sales thrive even in the midst of a global pandemic".
The McCoy family has plans to develop smaller units from 1500-1800 square feet featuring a full menu offering the freshest ingredients sourced directly from dairy farmers, tomato growers, and olive oil producers. All those fine, natural ingredients are used in all of Russo's kitchens each day to prepare homemade sauces, salad dressings, pizza dough, fresh pasta, and much more. Classic Italian menu items include: Truffle Tortelloni, Pappardelle Carbonara, Russo's Lasagna, Baked Ziti, Chicken Parmesan, Tuscan Vegan Pizza, Fettuccine Alfredo, Spicy Fennel Sausage Pizza, and much more.
Russo states, "Our locations are successfully designed to serve guests through dine in, home delivery, catering, takeout and curbside pick up. Our new 1500-1800 is designed for our franchisees to capitalize on the growing home delivery segment". Russo states, "This means that this is the best time for you to start your own pizza franchise. Pizza not only is surviving, it is thriving".
Russo's corporate support team is strong and collaborative with a franchisee-friendly corporate culture and is ready for expansion. What separates Russo's from the rest of the pizza industry is not only a great support team ready to tackle it all, but also the unique family recipes and fresh ingredients. With no additives or preservatives, Russo's New York Pizzeria & Italian Kitchen creates dishes from ingredients that are safe and reliable from trusted brands. Chef Russo adds, "Our mission statement is: 'If it isn't fresh, don't serve it.' That is the Russo family promise." The average store investment ranges from $350,000-$895,000. Qualified candidates must have at least $200,000 in liquid capital. To learn more about Russo's menu, lunch specials, delivery, takeout, catering, or to order online, please visit www.nypizzeria.com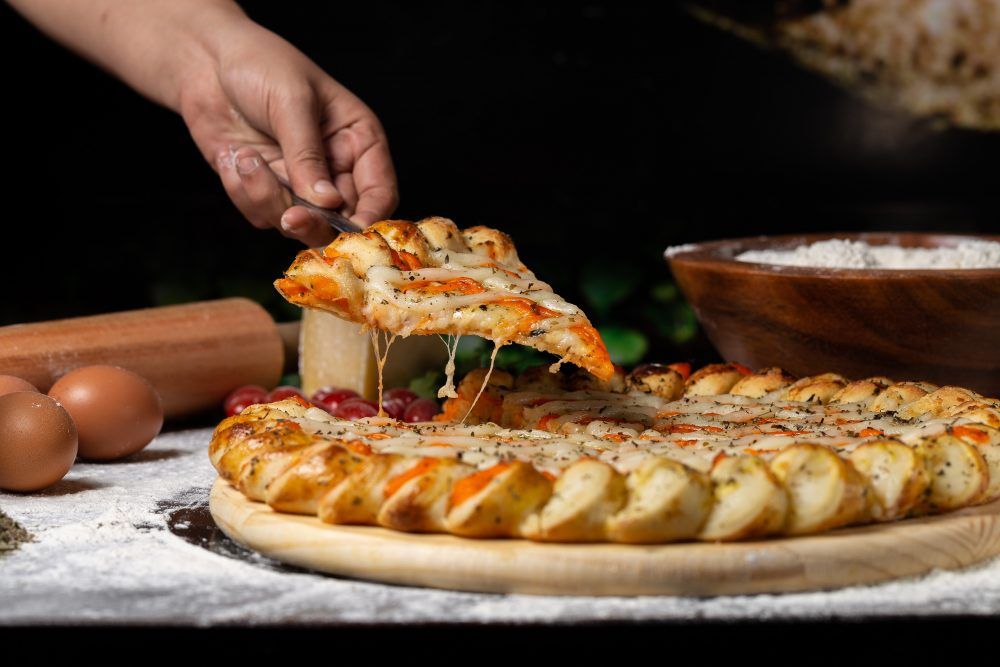 Look who is in the top 14 pizza places in Houston! Houston Public Media lets pizza lovers weigh in on their favorite 50 billion dollar industry local spots.
The Middle East is a great place for a New York style pizzeria! On the forefront of this trend is Russo's New York Pizzeria & Italian Kitchen. Check out Truic Startup Savant's mention of Russo's Middle East concept growth.
Navigating the Labor Shortage during and after the 2020 Covid pandemic is one of the restaurant industry's biggest challenges in decades. Read more about wages, shortages, and recruitment fluctuations through 2021.
As a teenager working in the kitchen at the original Russo's Pizzeria in Galveston, TX, Randy McCoy knew there was something special about the pizza franchise. He vividly recalls the mouth watering aromas of the authentic, made-from-scratch Italian food that has become synonymous with the Russo's brand.
"It was a little, 500-square-foot take-out and delivery restaurant," said Randy. "That was my first job. My brother and I assisted Anthony [Russo] with preparing all the fresh ingredients. I have a lot of good memories of those summers."
Today, Randy is preparing to begin his journey to bring five Russo's franchises to Galveston and North Houston markets. Joining Randy is his wife, Ayesha, as they set the stage for building a legacy of family-run businesses.
From Pizza Franchise Ownership to Construction
Growing up, Randy had always worked in the restaurant industry. He managed multiple restaurants in the Galveston area. At 24 years old, he took ownership of a local pizza franchise that was underperforming.
"He devoted his entire life to turning that restaurant around for several years," explained Ayesha. "He resurrected it and ended up selling it for a profit a few years down the road."
In 2008, an event occurred that spawned a sudden career change for Randy. Hurricane Ike hit Galveston and caused massive damage to the metropolitan area.
"It dawned on Randy that renovating and contracting was something he could easily fall into because of the fact that he grew up in the area and he had a lot of contacts in the area of various trade organizations," she added.
He started a contracting business that exploded over the next couple of years. He got involved with the Galveston Historical Society in preserving buildings across the city.
While Randy was successful with his business and was able to take care of his family while Ayesha was completing her training to become a certified anesthesiologist, it ultimately wasn't his passion.
"He kept coming back to the idea of opening a restaurant — specifically an Italian restaurant," said Ayesha.
Returning to His Roots, Passion for Foodservice
In 2012, the husband-and-wife duo took an initial step toward returning to foodservice by opening a smoothie franchise in Dickinson, TX. It was their first experience building a restaurant from the ground up, but they thrived nonetheless. The store reached the No. 1 spot in sales in the region within the first year.

As fate would have it, a Russo's location opened up in the same shopping center as the McCoys' smoothie franchise. Randy's future was staring him in the face.
After selling their smoothie business, they began researching different franchise opportunities and kept coming back to Russo's. One of the biggest differentiators is the brand's dedication to only using the highest-quality, freshest ingredients.
"I remember hand-shredding blocks of mozzarella and making gallons and gallons of marinara sauce," said Randy. "When I owned that first pizza franchise, everything was shipped in pre-boxed and frozen."
Russo's dishes are made from scratch and use fresh, organic ingredients. The menu features distinctly unique pizzas, including Truffle Mushroom, Prosciutto & Burrata and Prosciutto & Fig. Other menu items include Truffle Tortellini, Caprese Pasta, Chicken Piccata and Pappardelle Carbonara. The restaurant also offers gourmet soups, salads and desserts.
Russo's family traditions play a role in every aspect of each restaurant, from the authentic family recipes to the warm hospitality to the respect given to each individual who walks through the doors. Handing off these recipes and traditions to the community is what makes Russo's so unique.
The Perfect Time to Invest in a Pizza Franchise
After Randy's eldest son and Ayesha's brothers had graduated from college, they realized it was the ideal time to do something big — with Russo's at the heart of it.
The McCoys contacted Anthony Russo in 2019 with the initial goal of opening five locations.
"When we went to sign the franchise agreement, Anthony had prepared all of this food," Randy explained. "When we opened the doors, the aromas hit me, and it all came rushing back."
Randy and Ayesha will be opening their first restaurant in the North Houston market in the late summer. The couple is looking to open an additional restaurant every nine months to a year after that.
"This is such an exciting milestone for me and my family because I'm fulfilling a lifelong dream of mine while also planting the seeds for my children's future and many generations to come," said Randy.
Are you looking to bring an authentic taste of Italy to your community? Get started by downloading our free franchise report here.
Chef adds more than just salt when cooking the perfect pasta. Not only do you want to be sure your water is boiling and not to add water to it, but did you know it's best not to rinse your pasta once you've drained it? Chef Anthony gave Mashed readers the perfect tip to keeping starches and flavors in your pasta, without rinsing. Read article
Russo's is growing it's family in 2021. After inking this 5-unit deal, California will see the first Russo's New York Pizzeria & Italian Kitchen! With the love of authentic Italian food and a heart for entrepreneurship, the Fresno area is soon to welcome Don and Katherina Haines as the newest members of the Russo family.

See below for Press Coverage surrounding this expansion into a new marketplace.
Title: This New York-style pizzeria is planning to open 5 locations in Fresno, Clovis area
---
Title: New Franchise promises to become Fresno's 'go-to Italian'
Title: Russo's New York Pizzeria Signs 5-Unit Deal for Fresno, California
Russo's New York Pizzeria & Italian Scratch Kitchen Signs a Multi-Unit Franchise Agreement in Fresno California
Title: Russo's Signs Fresno Multi-unit Deal
Title: The New Franchise Promises To Be Fresno's "Go-To-Italian"
Title: Russo's New York Pizzeria & Italian Scratch Kitchen Signs A Multi-Unit Franchise Agreement in Fresno California.
Title: Russo's New York Pizzeria & Italian Scratch Kitchen Signs a Multi-Unit Franchise Agreement in Fresno California
Global Franchise is an international publication about franchising opportunities, curated regionally and internationally, over a wide selection of wealth sectors.
Russo's New York Pizzeria & Italian Kitchen takes a slice of Global Franchise magazine's issue with a three page spread. With our Fresh FDD numbers in tow, click here to learn more about how Russo's is the best pizza delivery concept to invest in in 2021.
For more information about our franchise opportunities, fill out a form on our website and contact our franchise development team for our full FDD!